INFOM News on International Symposium and Workshop during May 18 -19, 2019

INFOM News on International Symposium and Workshop during May 18 -19, 2019
Last Updated:Jun 04, 2019
INFOM 2019 brings together delegates from 14 nations 40 people participated in the Academic Workshop and Forest Therapy Walk in Japan
Delegates from Australia, Canada, China, Germany, Finland, Japan, Malaysia, the Philippines, Serbia, Singapore, Sri Lanka, the USA and Vietnam gathered in Japan to participate in the international workshop on Forest Medicine. Participants met in Ueno village, Gunma Prefecture, to learn about the ongoing research on Forest Therapy and to be trained on a certified Forest Therapy trail. The growing global popularity of "Shinrin Yoku" was evidenced by the large attendance at this year's event.
In the opening speech, Dr. Qing Li MD, PhD (Dr. Nippon Medical School Hospital, Vice-President of INFOM) welcomed the international guests to Japan and introduced the key speakers, Dr. Michiko Imai, President of INFOM, Dr. Hiroko Ochiai, MD, PhD (National Tokyo Medical Center) and Dr. Takahide Kagawa, PhD (Forestry and Forest Products Research Institute, Japan). The highlights of the day focussed on the scientific research and publications which underly the practice of Forest Therapy, especially the preventative effects of "Shinrin-yoku" on lifestyle-related illnesses. Further exchange meetings and presentations from international delegates also underscored the value of Forest Therapy in combatting stress and related health issues faced globally by the growing urban population.
The onsite training on the Forest Therapy trail in the mountainous village of Ueno was the highlight of Day 2 for all international delegates. The Forest Therapy session commenced with 'forest breathing' and stretching activities lead by Dr. Imai. "Shinrin Yoku activities must focus on all five senses for maximum benefit" Dr. Qing Li stated, as he guided the group. At the end of the two-hour walk, a delicious and healthy bento lunch box was served under the lush, green forest canopy, sourced from the gardens in the village nearby.
The weekend workshop concluded with a presentation ceremony, during which delegates received their certificates in Forest Medicine. In his final remarks, Dr. Qing Li called for close collaboration between INFOM and stakeholders from countries represented, especially to maintain international standards on training and research in Forest Therapy.
Over the next few days, most of the delegates will continue to stay in Japan, visiting other Forest Therapy bases around the country.
Report by Susan Joachim (International Nature and Forest Therapy Alliance)
2019 INFOM International Seminar and Workshop Program
Chairperson: Qing Li, MD, PhD (Nippon Medical School Hospital, Vice-President of INFOM)
Introduction of INFOM (20min)
Michiko Imai, MD, PhD (President of INFOM)
"The history and new trend on Forest Medicine in the world." (30min)
Qing Li, MD, PhD (Nippon Medical School Hospital, Vice-President of INFOM)
"Effect of forest therapy (Forest bathing/Shinrin-yoku) on human immune function" (30min)
Qing Li, MD, PhD (Nippon Medical School Hospital, Vice-President of INFOM)
Effect of forest therapy (Forest bathing/Shinrin-yoku) on stress (30min)
Hiroko Ochiai, MD, PhD (National Tokyo Medical Center)
The current situation of forest therapy base and forest therapist in Japan (30min)
Takahide Kagawa, PhD (Forestry and Forest Products Research Institute, Japan)
The potential preventive effect of forest therapy (Forest bathing/Shinrin-yoku) on lifestyle related diseases (30min)
Qing Li, MD, PhD (Nippon Medical School Hospital, Vice-President of INFOM)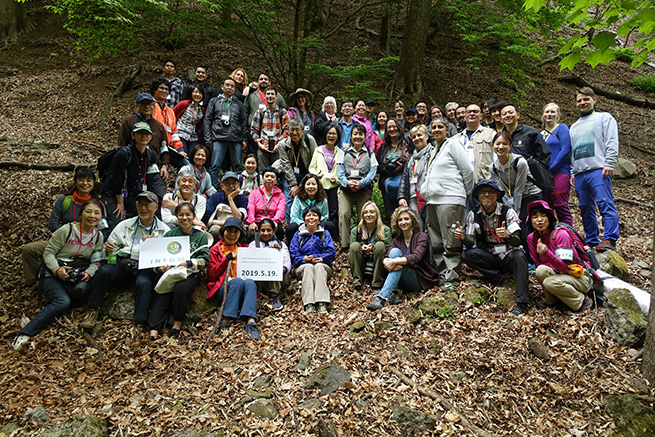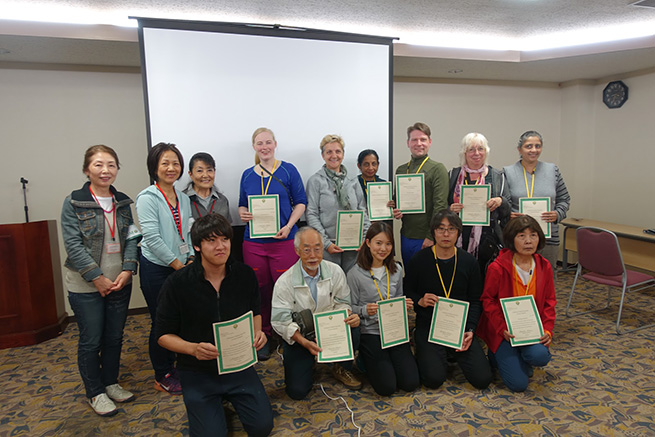 Ceremony of presenting the certificate of completion in Forest Medicine (Group A)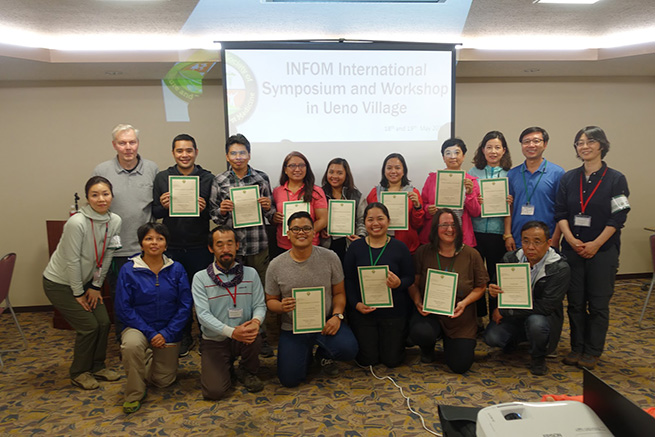 Ceremony of presenting the certificate of completion in Forest Medicine (Group B)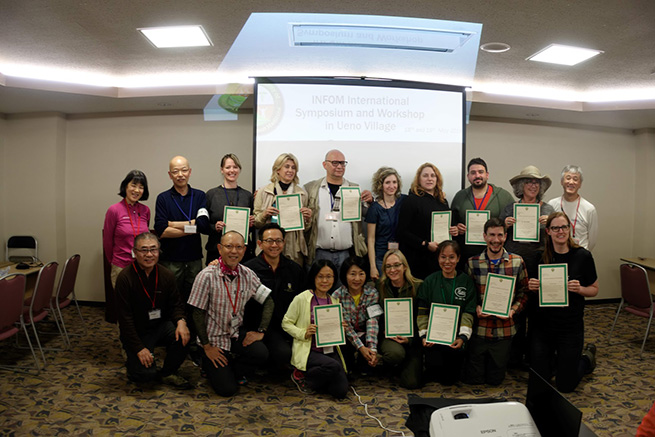 Ceremony of presenting the certificate of completion in Forest Medicine (Group C)